Russian Salad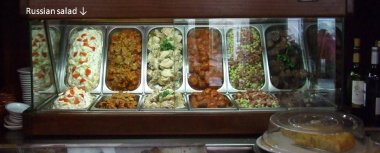 Russian Salad is one of the very most common tapas that you will find in any bar or cafe in Spain. Where the idea originated for it, is anyone's guess. It is as popular as paella or Chorizo, or even the Tortilla de Patata. The following recipe is absolutely delicious and is a real crowd pleaser. Better than that, it is very simple to make.
Ingredients
6 hard boiled eggs, diced
6 medium potatoes, cooked and diced
1 cup peas, canned is easiest
1 cup carrots steamed or boiled and diced, or used canned
1 cup red bell pepper, diced
1 can tuna, drained and flaked
1 cup mayonnaise
1 tablespoon sweet pickle juice
1 teaspoon salt
½ teaspoon fresh ground pepper
Paprika as garnish
Easy Directions
In a large bowl combine eggs, potatoes, peas, carrots, red bell pepper and tuna. Using a big cooking spoon combine these ingredients well. Add the mayonnaise and pickle juice, salt and pepper together well, then combine it well with the vegetable mixture.
Refrigerate your Salad for a minimum of 3 hours before serving. Best to leave it in the refrigerator overnight. This way the flavors meld and it is better tasting.
Place sliced eggs on top of your salad and sprinkle with paprika to garnish.

Spanish tapas recipes - Exciting aren't they? For more tapa recipes see the entire selection from the Mediterranean Diet page on Mediterranean Diet Recipes.
Back to Mediterranean Diet Page from Russian Salad

Tags: russian salad, tapas recipes, spanish tapas recipes, tapa recipes, tapas recipies