Perfect Pesto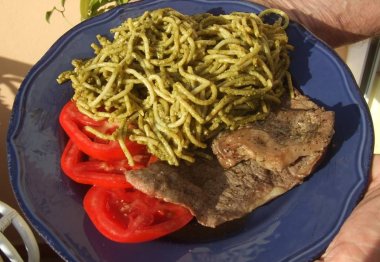 Making perfect pesto is not hard to achieve. Although it does require a bit of patience based on it takes time for the basil to smoothly incorporate into the olive oil, pine nut, parmesan cheese and garlic paste that you are creating.
There is a short list of ingredients, all special in their flavors, and once they are incorporated the flavors combined are heavenly.
Pesto is robust in its fullness. It is a flavor you cannot forget.
This simple recipe is the most basic pesto recipe and one I have used over and over through the last 20 years. It is reliable to turn out the best, most perfect pesto time and time again, a dish you will enjoy serving.
Pesto is surely destined to become a favorite of anyone who tastes the deliciousness of this simple recipe.
Ingredients
⅓ cup extra virgin olive oil
2 cups fresh basil leaves
½ cup pine nuts
½ cup freshly grated parmesan cheese
6 cloves garlic, crushed and chunky chopped
½ teaspoon salt
¼ teaspoon fresh ground pepperPlus, 2 tablespoons of additional olive oil if necessary1 lb. linguini, cooked
Directions
Combine in a food processor until it becomes a paste.
Stir paste well into cooked, hot linguini.
Serving Suggestions
Serve this dish by itself, or as a side dish with chicken, meat or fish, or with a simple garden salad. In the photo above, pesto is served with cadera vacuno, which is a skirt steak. It's a rich flavorful cut of meat, which is great lightly sautéed with sea salt and fresh ground pepper.
Tags: recipe for pesto, pasta pesto recipe, pesto, pesto recipe, pesto pasta recipe, basil pesto




Back to Mediterranean Diet Recipes from Perfect Pesto