Mediterranean Summer Lentil Salad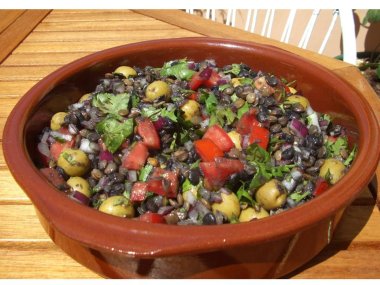 Mediterranean Summer Lentil Salad is a great addition to any summer meal. It is a great compliment to a hot meal on a cool summer evening.
It is served cold, so you can make it and have it in the fridge to serve again and again. It is a delightful, delicious blend of flavors that compliment a meal of potatoes and fish or any chicken dish very well.
Ingredients
1 ½ cup of lentils, uncooked
4-5 cloves garlic, crushed whole
2 large tomatoes, diced large
1 large red onion, diced fine
¼ cup cilantro, diced fine1 small can green olives, diced chunky
¼ cup olive oil
1 teaspoon salt
½ teaspoon fresh pepper
Directions
Place the lentils and crushed garlic cloves in a pot that has a heavy lid and solid fit on your pot. Cover with water plus approximately ½" of water over the lentils. Being exact is not super important, the water is meant to absorb into the lentils, so covering your lentils plus a bit more over the top of them is sufficient.
Bring the water in your pot to a boil. Cover your pot and reduce heat and simmer on medium low heat for 75 minutes. Don't pick up the lid in the meantime, as you will let the heat escape and interrupt the process of softening your lentils.
After the lentils are cooked, set aside and let them cool.
In a bowl, place all remaining ingredients and add lentils. Blend them together well.
Yield: 6-8 servings
You can serve this salad immediately or refrigerate overnight to let the flavors meld well.

Be sure to see all the healthy Mediterranean recipes at Mediterranean Diet Recipes.
Find these gorgeous hand painted original Spanish ceramic bowls and other dishes, pitchers, kitchen items and food items at LaTienda!
Back to Mediterranean Diet Page from Mediterranean Summer Lentil Salad