Calamari Recipe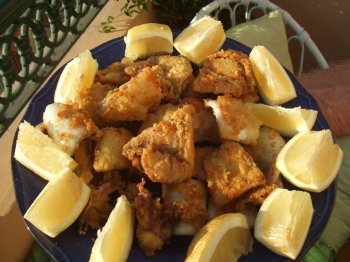 This Calamari recipe can be prepared to serve as dinner or as a delicious (phenomenal!) tapa.
Ingredients
1 pound or ½ kg. squid, small purple or medium sized white
1 teaspoon Salt
½ teaspoon fresh ground Pepper
1 cup flour
½ cup olive oil
2-3 ripe lemons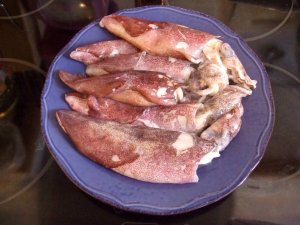 Directions
1.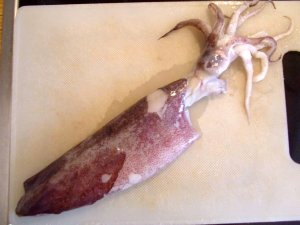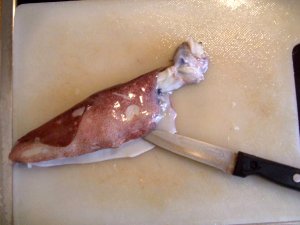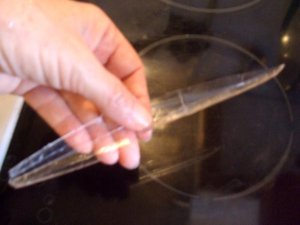 Lay squid flat on cutting board so it is on its side. Using a sharp knife, slice off tentacles just above the eyes and remove large hard ball from inside the tentacles. Then, slice down the middle of the squid belly, opening it up to reveal its spine which has its organs attached to it.
The spine is a hard clear ½" or so wide blade: lift this out- thus removing the squid insides.
2.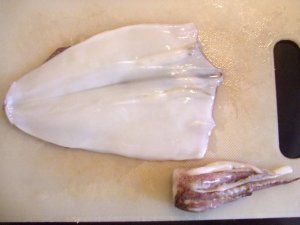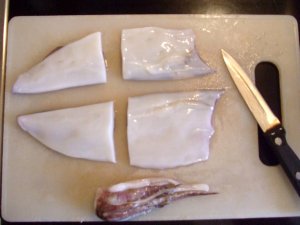 Next, cut the body of the squid into four pieces and so now you have 4 body pieces and the tentacles for preparation of the next step.
Prepare all your squids.
3.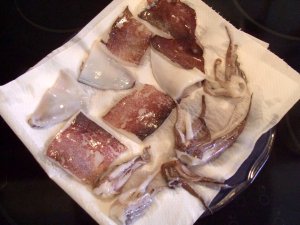 Place the squid pieces on paper towels to remove moisture. You can layer up the paper towels and squids so you use just one plate to dry them all while you are doing the following steps.
4.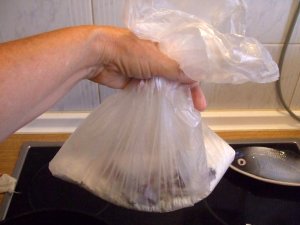 Place the cup of flour in a plastic bag, the type you get in the vegetable section in the market. Add salt and pepper to the flour and give it a shake to incorporate them evenly into the flour.
Put your squid pieces in the bag about 6 pieces at a time and shake the bag enough to make sure all your squid pieces are well covered with the mixture.
It is best to shake and cover your squid pieces as there is room for them in your pan. Doing this all at once isn't a good idea because the ones that are sitting waiting to go in the pan get a little gummy - from any moisture in the squid.
5.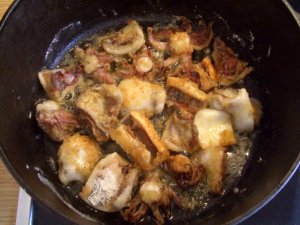 Heat olive oil in a large pan on the stove top. Use medium high heat. Bring oil up to temperature.
Remove each piece of squid from the flour sack and place them in the pan to sauté.
Prepare enough squid in the flour to fill the pan.
Cook approximately 3 minutes on each side until golden brown and crispy.
Continue to fill pan and cook until all pieces are done cooking.
6.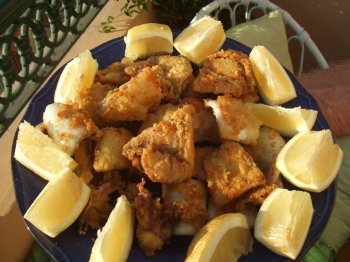 As squid is finished cooking place it on a serving plate.
After squid is all finished cooking and you have a nice full plate of it, squeeze fresh lemon on it and add a little salt.
They are ready to serve!
This calamari recipe is incredibly delicious, enjoy!
Serving Suggestions
To serve as tapas you don't need to prepare any other dishes. A good suggestion is to serve with Sangria.
To serve as a dinner entree, Calamari is great with a baked potato and a salad. It is a simple dinner and very pleasing. Your family or your guests will certainly consider this a top-rated event.
Back to Mediterranean Diet Page from Calamari Recipe