Albondigas in Salsa Roja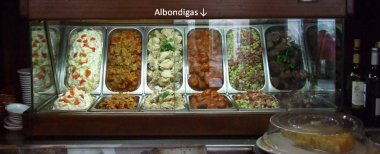 Albondigas in Salsa Roja is an easy effort for such a rewarding turnout. It is a rich, flavorful, satisfying tapa. Esta muy delicioso!
There are two stages to preparation: first the albondigas and second the salsa roja.
It is one of the handful of tapas that are found most commonly, amongst the variety of tapas found in any bar or cafe in Spain. There is a reason for its popularity - it's really good!
Albondigas
Ingredients
1/2 Kg. or 1 pound very lean ground beef
2 cloves garlic peeled, crushed, minced
½ large or 1 small onion, diced
¼ cup parsley, finely chopped
1 slice hearty bread, (not sandwich bread)
2 tablespoons milk
1 teaspoon salt
¼ cup olive oil
Easy Preparation
Place your bread in a shallow bowl or dish. Put milk over the bread and soak until the milk is completely absorbed.
In a large bowl, add the ground meat, egg, garlic, onion, parsley, soaked bread and salt and pepper. Mix these ingredients together well.
Next, roll about 2 teaspoons of the meat mixture at a time in the palms of your hands to form the meatballs. They ought to be about a 1".
Meanwhile, heat olive oil in a large pan on the stove top. Use medium high heat. Make sure your oil is brought up to the temperature of medium high before adding your meatballs.
Add your meatballs to the oil and brown them thoroughly. This will take approximately 20 minutes to assure they are cooked through and browned.
Remove them from the pan and let them sit on a plate with a paper towel to absorb some of the oil from cooking.
Salsa Roja
This is easy to prepare also. . .
Ingredients
½ onion (you can use the other half of the onion from the meatballs)
2 cloves garlic peeled, crushed, minced
1 tablespoon fresh or dried basil, finely chopped
1 tablespoon fresh or dried oregano, finely chopped
1 teaspoon salt
½ teaspoon fresh ground pepper
2-3 tablespoons olive oil
1 large can of tomato sauce
½ cup red table wine
Easy Preparation
Sauté onions and garlic in olive oil until translucent, about 15 minutes, on medium heat. Add basil, oregano, salt, pepper. Stir these ingredients together. Simmer these ingredients together 5 minutes so their flavors blend well. Then add tomato sauce and wine. Let this simmer together for 10 minutes.
Add meatballs to this sauce; let your sauce cook an additional 30 minutes to let the flavor of the albondigas absorb and meld with the salsa roja.
Serve your albondigas in salsa roja in a small dish with warm sliced baguettes on the side.
Spanish tapas recipes - Exciting and fun to serve! For more tapa recipes see the entire selection from the Mediterranean Diet page Mediterranean Diet Recipes.
And... don't forget! Please let me know how you enjoyed the Albondigas in Salsa Roja recipe, the other recipes in the Mediterranean Diet page and if any, recipes you have a request for. Contact Us
Happy Mediterranean Dieting!





Back to Mediterranean Diet Page from Albondigas in Salsa Roja