Panga Stir Fry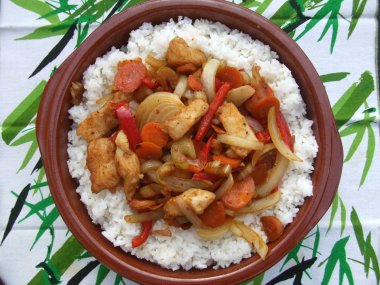 Panga Stir Fry is a regular at our house. It is easy to prepare, is a low calorie dinner and is delicious too.
Ingredients
1 lb or ½ kg. white fish filets, cut into about 1" wide slices
3 stalks celery, sliced to bite size
3 carrots, sliced to bite size. I use the edge of the grater for thin consistently sized slices, and for time saving ease of preparation
1 large onion, sliced lengthwise or into bite sized pieces
1 large red pepper, sliced in lengthwise slices or in bite sized pieces
1/3 cup olive oil
1 teaspoon salt
½ teaspoon fresh ground pepper
2-3 tablespoons Chinese garlic-pepper sauce OR 3 or 4 cloves of garlic peeled, crushed and minced and about 1 teaspoon dried red pepper flakes
Soy sauce to taste
Directions
To prepare this dish simply heat your oil in a large pan on the stove top, bring to medium high heat.
Add celery, carrots onion and pepper, let them saute for approximately 10 minutes.
Add garlic-pepper sauce, or garlic and pepper flakes, salt and pepper and your fish.
Saute all these ingredients together until fish is cooked until done (flakey) and vegetables are tender.
Add soy sauce, approximately 1 tablespoon to entire mixture.
Serve over basmati rice.

This is a simple, but delicious meal. Try it, you will be sure to like it.

Be sure to try the other delicious fish recipes on Mediterranean Diet Recipes.

Tag: fresh fish recipes

Tags: delicious fish recipes, fresh fish recipes


Back to Mediterranean Diet Page from Panga Stir Fry