Mediterranean Meatloaf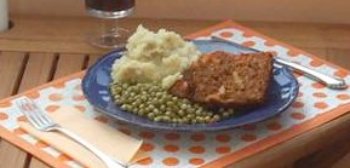 Mediterranean meatloaf is a take-off of classic meatloaf recipes.
This is one of my favorite meals. It is excellent tasting, easy and fun to make.
Ingredients
1 lb. or ½ kg. very lean ground beef
2 eggs
½ cup tomato sauce, or ketchup
½ cup good bread crumbs, flavored with herbs is good, or you can use plain
1 large onion, finely minced
½ cup green (or black) olives, finely chopped
Option: 2 cloves fresh minced garlic
1 teaspoon salt
½ teaspoon fresh ground pepper
Directions
Put the entire list of ingredients in a large bowl. Combine all of them well. You can use a large cooking spoon, or roll up your sleeve, remove your rings, wash your hands and get in there and mix it all up with your hand. It is easier and faster and kind of fun.
Prepare a loaf pan, standard size is 4" x 10" approximately, simply lightly coat the sides and bottom of the pan with some olive oil so your meat loaf will come out easier.
After you have completely combined the meatloaf ingredients, shape them into a long roll and put it in the loaf pan.
A very good option is to put additional tomato sauce over the top of the meatloaf before baking. It makes an additional layer of flavor and is a great complimentary taste to the baked meatloaf.
Bake for an hour at 350°F.
Serving Suggestions
Meatloaf, mashed potatoes and fresh peas are a great combination.
Meatloaf and baked potatoes and a salad are great too.
I guarantee this is among the best if not the best meatloaf recipe you will ever make. Try it soon!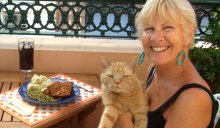 Back to Mediterranean Diet Page from Mediterranean Meatloaf