Mediterranean Spicy Panga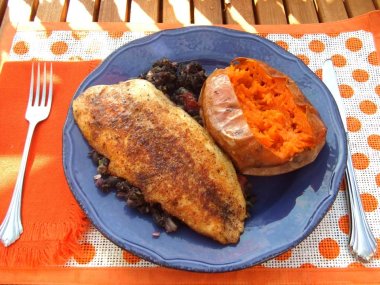 Mediterranean Spicy Panga is an easy dinner to prepare and its very delicious. Once you prepare it I am quite certain it will be one of the staple meals you prepare regularly. It really is that good.
Ingredients
8 ounce filet of fish for each serving
Cajun Spice (*see below)
Salt and pepper
Olive oil for sauté
Any fresh fillet of white fish or even salmon, is well suited for use in this recipe. Salmon has a rich flavor and works well with the flavors of the spices and with the suggested side dishes.
*If you do not have Cajun spice mix it is quite easy to create your own by combining garlic powder, chili powder and cayenne pepper in equal portions.
Directions
Place 1 or two sheets of paper towels on the counter, place fillets on them and then cover with 1 or 2 more paper towels and let them sit a minute to remove moisture.
Heat olive oil, about 1/4 cup, in a pan on medium high heat. Your heat ought to be slightly over medium, not higher.
Once fillets are dry, cover one side of them with the spice mixture.
Put your fillets spiced-side down in the pan. Then spice the other side of the fillets.
Saute each side of the fillets so that the fish is no longer transparent, rather opaque, or done. This may take 5 to 10 minutes on each side, depending on the thickness of your fillet.
Watch them to see they are cooking, not burning, and to see when they are cooked and ready to turn. You can test to see when your fish are cooked when they flake easily.
Serving Suggestions
Mediterranean Spicy Panga served with
Baked Potato or Sweet Potato
Salad or Sliced Tomatoes
Beans, use either pinto beans or white beans Black Beans. See Black Bean recipe page.
Baked or Sweet Potato preparation:
Bake potatoes at 350°F for 1 hour. Test whether your potatoes are done by squeezing them a little with your oven mitt. You can tell they are done when they squeeze easily. If they are still hard after an hour, bake them 10 minutes more at a time until they are done. Russets will typically be done in an hour depending on their size however, sweet potatoes are not done until they leak their juices. They become caramel-like because their juice is sweet and sticky. This is a delicious side dish for Spicy Panga.
A side-dish of either salad or sliced tomatoes goes very nicely with the other suggested side-dish with this meal.
Beans make a perfect side-dish because their flavor is a perfect complement to the potatoes and spicy fish, as you will see.
Be sure to try these menu selections with Mediterranean Spicy Panga, they are sure to become one of your favorite meals.

Please be sure to try the other delicious recipes at Mediterranean Diet Recipes.

Tags: healthy Mediterranean recipes, blackened fish
Back to Mediterranean Diet Page from Mediterranean Spicy Panga