Mediterranean Linguini with Clam Sauce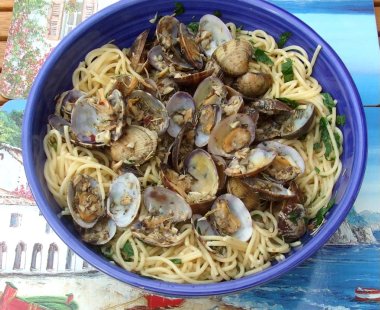 This Mediterranean Linguini with Clam Sauce recipe originally came from a small village on the Italian Mediterranean Coast, from a small restaurant that is very popular with the locals. It is a dish they flock to the restaurant daily for a serving of.
Once you have made this dish you will understand why. I have referred this recipe to my friends time and time again. It's a recipe that I don't only recommend, I try to be more convincing than that. Honestly, you owe it to yourself to make this terrific dish.
Ingredients:
¼ cup olive oil
1 teaspoon dried red chili pepper flakes
6 cloves fresh garlic
1 teaspoon fresh sea salt
1 teaspoon fresh ground pepper
1 flat of canned anchovies
2 tablespoons thyme
1 cup dry white wine
1 cup clam juice
1 pound fresh clams
1 lemon, zested
1 pound linguini
¼ cup fresh parsley, chopped fine
Directions:
Saute garlic, pepper flakes, garlic, anchovies, salt and pepper in olive oil on medium-high heat until garlic is done and ingredients are well blended, approximately 5 minutes.
To the sautéed ingredients ADD thyme, wine, clam juice and lemon zest. Cook them well for about 1 hour. Add clams and let them cook for approximately 10 minutes in the sauce. Discard any clams that do not open.
Boil and drain your noodles.
In a large bowl combine noodles and sauce. Sprinkle fresh parsley over your pasta dish.
Serve with fresh crusty bread.

Try other healthy Mediterranean recipes on Mediterranean Diet recipes
Tag: healthy Mediterranean recipes



pBack to Mediterranean Diet page from Mediterranean Linguini with Clam Sauce