Mediterranean Honey Cake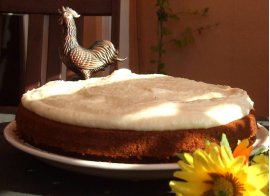 Mediterranean Honey Cake is a healthy cake made with honey, whole wheat flour, olive oil in place of butter and whole vanilla bean in place of bottled vanilla flavoring. It's not only healthy, its Great tasting!
In this photo, I have frosted it with Creamed Coconut Cream Cheese Frosting, recipe follows.
It is a very easy cake to make for evening dessert or for snacking any time of the day.
Ingredients:
1 cup honey
½ cup olive oil
2 eggs
1 whole vanilla bean
1½ cups whole wheat flour
3 teaspoons baking powder
½ cup milk
Directions:
Preheat oven to 350°F or 175°C.
Grease two 8x8" round cake pans.
In a medium bowl cream together your eggs and honey; add vanilla bean* and blend to mixture well.
In small bowl put both your flour and baking powder and stir together with a fork to blend them together well.
Alternately, add the dry ingredients and milk to your honey mixture, blend all well.
Bake for 25 minutes
*Prepare Vanilla bean by cutting down the middle of it lengthwise, laying open the hard outer layer and scraping the soft vanilla inside, out. Add to the creamed honey mixture.

Creamed Coconut, Cream Cheese Frosting
Ummm...yummy... This frosting contains no sugar, yet is very delicious and spreads nicely on your cake. The taste of the cream cheese frosting adds a really nice dimension to the taste of your cake.
Ingredients:
1 package, 200 grams or 1 cup of creamed coconut, softened to room temperature (This is available in any grocery store)
1 package, 1 300 gram package or 1 8 oz. package cream cheese, softened
1 cup honey
Directions:
Blend together well in a bowl.
Place one layer of cooled cake onto cake plate.
Spread evenly ½ of the mixture onto top of 1 cooled cake layer
Place second layer on top of other layer, spread the rest of the frosting on top. Decorate using twirls of a teaspoon on top layer of the frosting for a little texture.
Enjoy!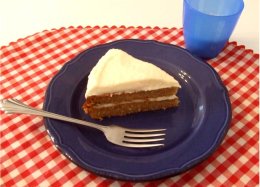 More healthy cake recipes and other dessert recipes to come!





Back to Mediterranean Diet from Mediterranean Honey Cake