Delicious, Nutritious Mediterranean Chili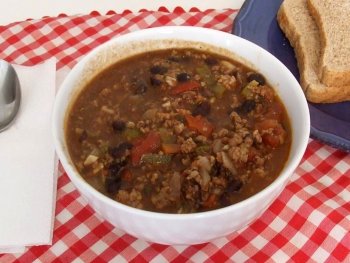 Mediterranean Chili is very easy to prepare and it is very delicious meal.
Directions
In a dutch oven, over medium heat saute:
1 large onion, diced finely, 1 large onion=approximately 1 cup
1 cup celery, sliced thin
1 large green pepper (not red) diced finely
5 or 6 cloves garlic, crushed and diced (see *option below)
Saute vegetables on medium heat for 15 minutes, until the onions look clear.
Next, add 1 lb. very lean ground meat into the vegetable mixture, brown well.
To this mixture add:
1 teaspoon salt
1/2 teaspoon fresh ground pepper
1 teaspoon chili powder OR
1 teaspoon red pepper flakes
1 teaspoon cumin
*option use a healthy tablespoon of garlic powder in place of fresh garlic (make sure you are not using garlic salt.)
Let this mixture saute until the meat is cooked through, no pink showing.

Add:
1 large can of diced tomatoes OR tomato sauce. Either works well.
2 cups of beans, if they are canned, include their juice.
An excellent suggestion is to use the black beans that I have provided a recipe for in this Mediterranean Diet page. They are a great option, however, kidney beans or pinto beans are also very delicious in this recipe.
Cover lid, bring up the heat until almost boiling, just until the heat makes small bubbles on the surface of your chili, and then reduce heat to simmer, and leave on simmer for 1 hour (no less).
Serving Suggestions
Serve with
Crusty bread
Toppings of diced onion and shredded cheese

This chili is fantastic, I am 100% sure you will love it.


See more easy healthy recipes at Mediterranean Diet Recipes.


Go to Contact Us and let me know if you enjoyed the Mediterranean Chili recipe and if there are any recipes you would like to see on the Mediterranean Diet page.




Beautiful hand painted Spanish ceramic serving bowls




Find them at LaTienda online. See these, and many other original Spanish food, home and kitchen items.
Return to Mediterranean Diet from Mediterranean Chili